1/6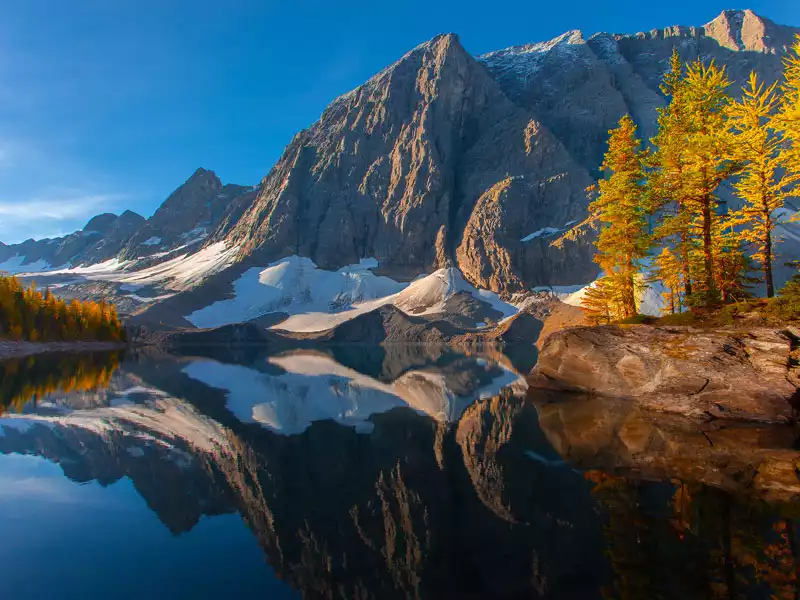 Alpine Canadian Train to the Rockies | Canadian Rockies
2/6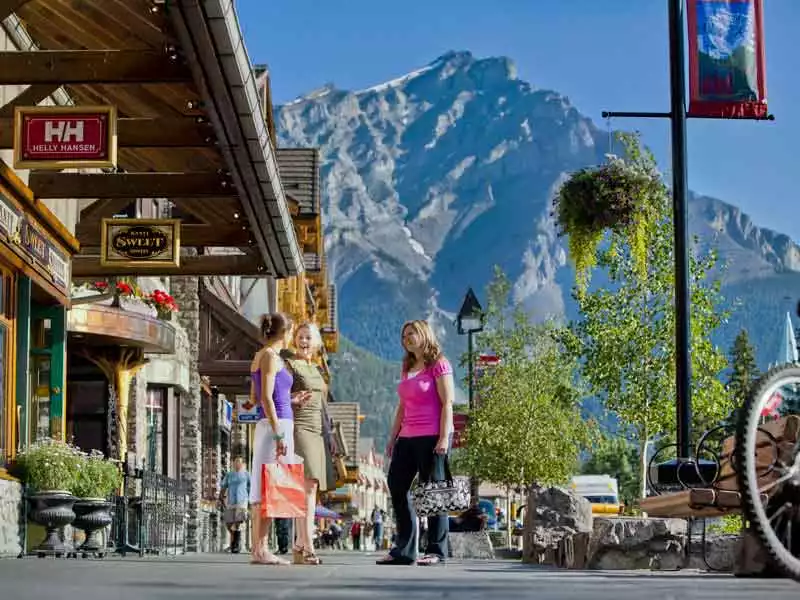 Alpine Canadian Train to the Rockies | Banff
3/6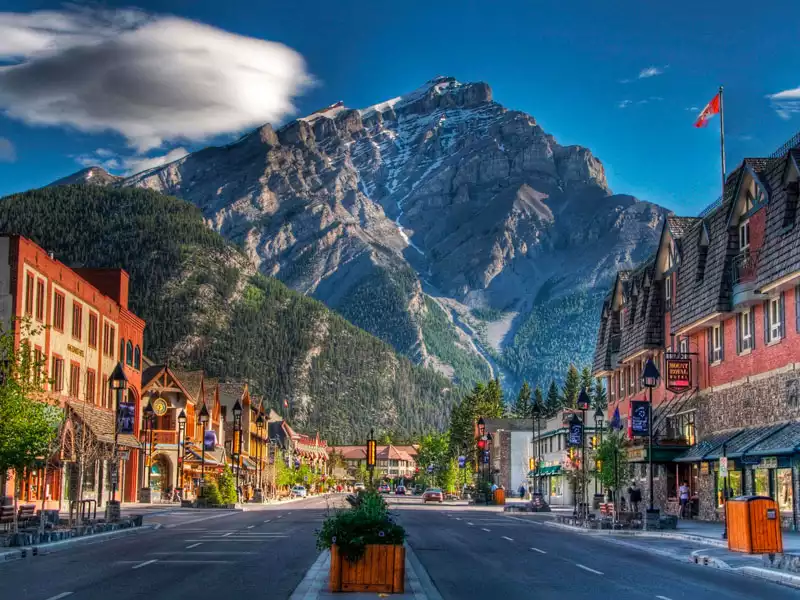 Alpine Canadian Train to the Rockies | Banff
4/6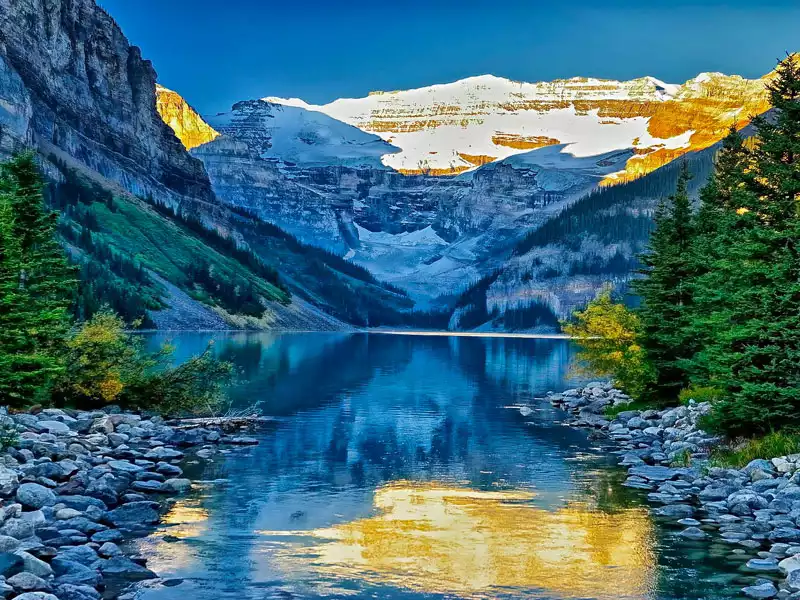 Alpine Canadian Train to the Rockies | Lake Louise
5/6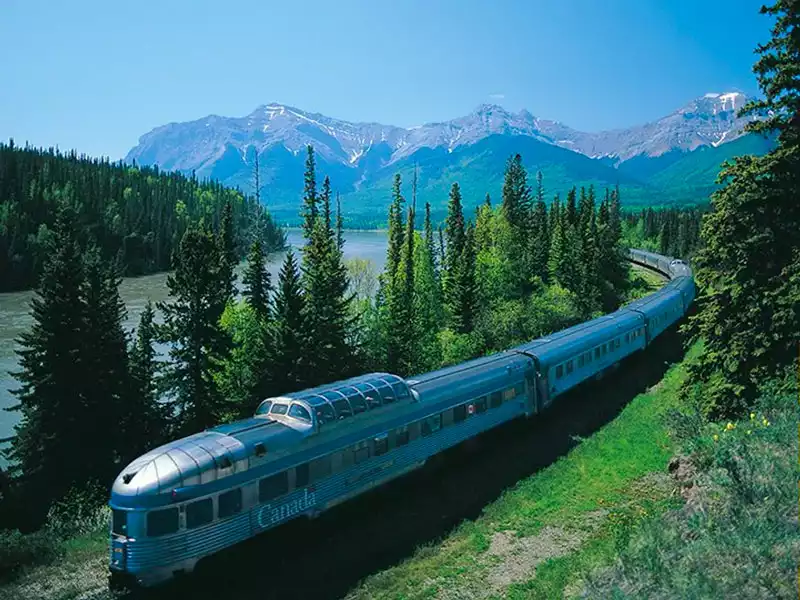 Alpine Canadian Train to the Rockies | VIA Rail
6/6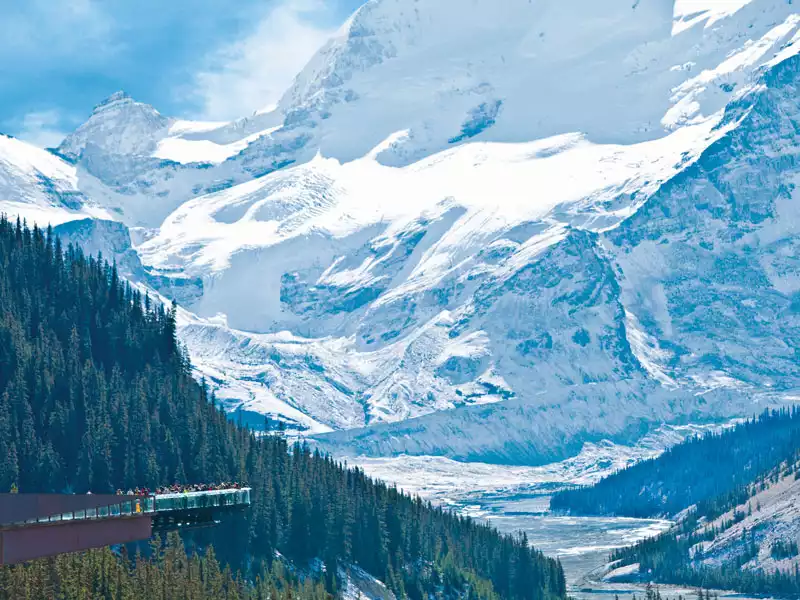 Alpine Canadian Train to the Rockies | Columbia Glacier Skywalk
Alpine Canadian Train to the Rockies | VIA Rail
6 Days / 5 Nights
Vancouver to Calgary or Calgary to Vancouver
INTRODUCTION
Our Alpine Canadian Train Trip to the Rockies highlights the best of the Rocky Mountains in 6 Days.
Stay in the resort towns of Banff, Lake Louise & Jasper, witness breathtaking scenery of the Icefield Parkway and travel overnight on VIA Rail with your very own cozy sleeper cabin.
Be sure to keep your eyes open for wildlife, as you are likely to see elk, bears and bald eagles.
Day 1
Vancouver to Jasper | VIA Rail
Day 2
Arrive Jasper | VIA Rail
Day 3
Jasper to Lake Louise | Sightseeing with picnic lunch
Ice Explorer Ride onto the Athabasca Glacier + Glacier Skywalk
Day 4
Lake Louise to Banff | Coach
Day 5
Banff | Freedom of Choice - Choose 1 of 3 Excursions
Option 1. Discover Banff & Its Wildlife Tour + Banff Gondola
Option 2. Discover the Grizzly Bears, Lake & Waterfalls
Option 3. Cowboy Horseback Cookout BBQ Lunch or Dinner
Day 6
Banff to Calgary | Coach
MAP
View map
DETAILED ITINERARY
Read more
INCLUDED
Read more
WANT TO KNOW MORE?
Arrange a call with a Canada Travel Designer and bring your vacation one step closer!
Schedule a Call
DATES & PRICING
Read more
REVIEWS
We have just come back from our tour Canada. We had a great time. Thanks Canada Rail Vacations, especially to Karen for putting together and planning such a trouble free, smooth running package to make our visit even more unforgettable. Every place we have been to have been carved very deeply in our memories. We fell in love with the Rockies, its wild life, ice fields, beautiful towns and the friendly people. We definitely want to come back and we know who to contact.
Lutfu Istanbul
Thanks for a great holiday. The Rockies and Eastern Canada - awesome, Victoria- beautiful. Whistler- magic. All the itinerary was excellent. Well done team!!
Mark Sydney, Australia
I booked a Rail Tour from Vancouver to Calgary, departing in August to celebrate my 75th Birthday and the the weather was gorgeous. The train was wonderful. Sleeping compartment small but very adequate. Bed extremely comfortable with private washroom . Food was excellent and nice variety of choices. Everyone was extremely accommodating. The bus tours were amazing. The tour bus has plush leather seats that recline to almost a bed. It only holds 30 people and there were only 11 on our trip. It stops many times to let us off and take pictures. One of the highlights that many people would not see if they drive themselves is the Athabasca Falls. It is not visible from the highway so you would really have to watch for signs or miss it. It was only a block from the highway. The driver was excellent and provided a lot of information. The highway was #93 also called the Icefelds Parkway. The driver said it is the 7th in the world known for its beautiful scenery. I believe it. The Glacier ride was fun, cool, and a little slippery, but I would not miss it. The Sky Walk was very exciting, but made me a little dizzy if I looked down while walking. No problem, just look ahead. Ha ha.We walked from our Hotel to the Fairmont Chateau Lake louise and had dinner overlooking the Lake. Beautiful. The full day in Banff was fun and relaxing. We saw one Elk on the wildlife tour plus the beautiful Banff Springs Hotel. We ate at St. James Gate Pub on main street in Banff. It is a pub from Ireland they dis-assembled and brought to Banff and re-assembled. The Yorkshire Pudding appetizer was to die for. It was a very memorable trip and I highly recommend to all.
Cherie Arizona, United States
My planner this year was Mandy. I was very happy with her from start to finish. I did the same type of trip last year to Vancouver Sunshine Coast and Island and was very happy with the travel designer I had then too. Same with another trip earlier was to the Atlantic provinces.Being a repeat customer attests to the quality.Thank you Mandy - I appreciate the extra care you took.
Annabelle Delaware, United States
I toured on the Vancouver, Whistler and Vancouver Island tour. It was brilliant. The bus drivers were very helpful and knowledgeable. The sea to sky experience was wonderful and it was great going to the top of the mountains and the cultural museum was very interesting. The whales very kindly decided to perform when I was whale watching. Apparently it was only the third time this year the marine biologist had seen them so active and of course the Butchart Gardens were magnificent and the Canadian Rockies Spectacular. I could not fault anything, even the weather was hot and sunny. I would give it ten stars if it was possible.
Janet New Eltham, United Kingdom
We had a wonderful time, everything was perfect. We would recommend trips organized by Canada Rail Vacations to anyone who is interested in actively exploring parts of the country. Many thanks for an outstanding job.
Astrid Ottawa, Canada
We would like to express our appreciation for a wonderful trip arranged through Kris, Canada Rail Vacations. From start to finish it was an ideal trip for us to enjoy Canada scenery, atmosphere and hospitality. We were afforded the right amount of activity for the trip yet relaxing. The suggested route from Calgary to Jasper was just spectacular. The hotels we stayed in are in town. And of course the train ride is A plus. Again Thank you.
Manuel United States
Paulina booked an amazing Canada for my family. This was so easy to arrange. I just told her what we wanted to do and the time frame we had. She got back to me within a day with an outline of what she had arranged and shortly after that, I had a finalized tour. The price was very reasonable for the tour. This was an A++ experience and I'll definitely use Canada Rail Vacations for our next trip to Canada.
Kathleen Texas, United States
Worked with Jennifer planning a road trip from the Calgary Stampede through Lake, Louise, Banff, Jasper, Sun Peaks and finishing in Vancouver. We worked together using some of my ideas and many of her ideas. She booked most of our hotels, sight seeing venues and train. We had a marvelous trip. Everything fell into place and each hotel she selected was great and a little different from the one before. Thank you Jennifer for all your help. Will never forget this trip.
Anne New Jersey, United States
We are leaving Calgary today to return to Vancouver after our week trip that you organized for us. Just want to thank you for a thoroughly enjoyable experience. The train and the places we stayed were great. Everything was so easy with transport and accommodation. We will be recommending you to others and will use you again when we return for more adventure.
Kay New Zealand
Alpine Canadian Train to the Rockies | VIA Rail
Start planning your tailor-made rail vacation in Canada by contacting our rail specialists
Call 1 800 986 4560US
Monday - Friday: 8am - 5pm PST
, Saturday: 8am - 4:30pm PST
, Sunday: 11am - 5pm PST
Send an email sales@canadarailvacations.com